The First Spring Gathering of The J.L. Bedsole Alumni Association
     Th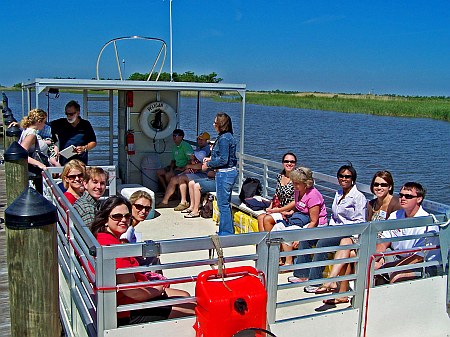 e First Spring Gathering of the J. L. Bedsole Foundation Alumni Association was held at Five Rivers, Alabama's Delta Resource Center on Saturday May 17, 2008.  Five Rivers is a facility of the State Lands Division of the Alabama Department of Conservation and Natural Resources.  It was conceived to provide the public with a facility focused on recreation, conservation education, and land stewardship in the Mobile-Tensaw River Delta, the second largest river delta system in the continental United States and a federally designated National Natural Landmark.
     Attending the Spring Gathering were 17 Bedsole Alumni, 3 staff members, 9 guests of Bedsole Alumni, and 2 children of Bedsole Alumni.  The Bedsole family was delighted when Sarah and Scot Dorger brought their son Colt and Evan and Kara Mitchell (both Bedsole Alumni) brought their son Jonah.
     The Bedsole Alumni who attended the Spring Gathering were: Sarah (Bond) Dorger, Spring Hill '93; Casey (Crow) McCorquodale, Alabama '93; Lynn (Sprouse) Kilgore, Mobile '94; Janice (Lewis)  Harvison, Mobile '95; Cynthia Parnell, Alabama '95; Erin (Holland) Hammond, Auburn '96; Metria Harris, UAB '96; Ka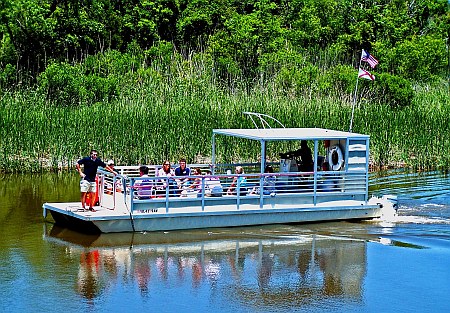 ra (Capps) Mitchell, Mobile '96; Evan Mitchell, Mobile '96; Haley Horn, Mobile '96; Candace White, Alabama '01; Megan Finnigan, Auburn '02; Jayeon Lee, Spring Hill '03;  Lauren Woods, Spring Hill '03; Lauren Littleton, Auburn '03; Nicholas Nolte, UAB '03; and Evan Wheeler, Auburn '03. 
     The day began with Registration and time to visit followed by a short business meeting during which Sarah (Bond) Dorger and Casey (Crow) McCorquodale shared the work of the Bedsole Planning Council.  They principally emphasized the importance of alumni mentoring the current Bedsole Scholars.  They also shared the dates of the Bedsole Scholars Convocation and the talked about the necessity of Bedsole Alumni attending the Convocation in order to meet the scholars and begin the mentoring process.  Travis Guest spoke of the importance of co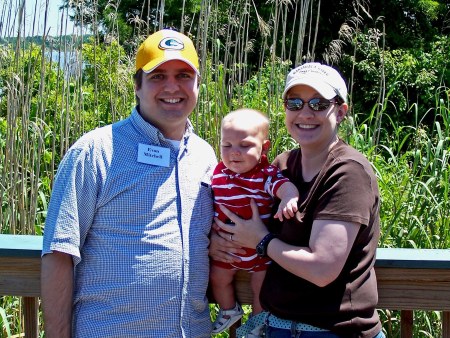 ntacting Bedsole Alumni for whom the office had no email address in the data base.
     During the day there was time to view a film on the Alabama Delta, browse in the gift shop, visit the Five Rivers Delta exhibit hall and everyone seemed to especially enjoy the Pontoon Boat Trip on the Mobile River Delta.
     The box lunch was delicious and throughout the day there was time for networking and building friendships.  The networking of Bedsole Alumni is important; for instance Travis Guest took the time to fine Cynthia Parnell and acquire her email address resulting in Cynthia and her sister attending the Spring Gathering; then Cynthia was able to provide a contact at the UAB Hospital that allowed Lydia Jesunathadas, a freshman Bedsole Scholar at UAB, to obtain the summer internship she desired.  That's how it works!
     The Association of Bedsole Alumni anticipates a Spring Gathering each year.  Be alert to look for the date and time.  Make every effort to at attend because of the valuable networking and the importance of building responsible friendships.