Welcome Bedsole Alumni and Friends!
The J.L. Bedsole Alumni Association seeks to allow its members opportunities to remain involved in the J.L. Bedsole community and to engage them in program planning for current Bedsole Scholars as described in The J.L. Bedsole Scholars Program mission statement. Alumni will be encouraged to network with Bedsole Scholars (and also one another) and provide mentoring, counseling, and where possible, employment opportunities and job search aid. Members of The J.L. Bedsole Alumni Association may also be called upon to serve on The J.L. Bedsole Selection Committee and various planning councils.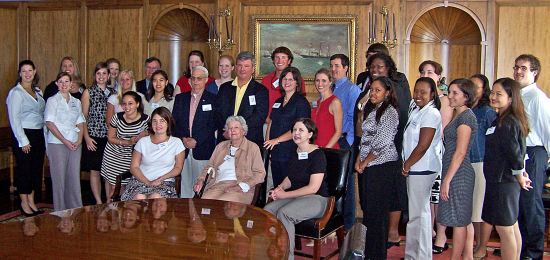 If you are a Bedsole Scholar Alumni, we are proud of your achievements. There is an increasing excitement about being a Bedsole Scholar Alumni. The Scholars Program began in 1993 and now has over 500 alumni. Among you are so many stories of success. Many of you are becoming leaders in your field, and your professional contributions are important to the continued success of The Scholars Program and the communities in which you live.
The Bedsole Scholars Alumni Association seeks not only to stay in touch, but to assist the next generation and also to find an avenue of positive involvement for every Bedsole Scholar Alumni. Your participation is important. Please feel free to browse these pages, let us know how you are doing, and feel free to find Bedsole classmates. Keep in touch with us by updating your contact information! Click on "We need your Info!" under Alumni News. Then click on "Alumni Update Form" and fill out the information about yourself.
After you have updated your information, email us a photo at info@jlbedsolefoundation.org and we will place it in your Alumni Directory.



The J.L. Bedsole Foundation Scholars Program is now accepting monetary contributions. Whether you are a J.L. Bedsole Alumnus who wants to give back or simply someone who wishes to support us, your contribution is appreciated. Click here to support The J.L. Bedsole Foundation Scholars Program and help us help the youth of Southwest Alabama become tomorrow's leaders! In addition, feedback is also encouraged and ideas are always welcome.

Please also visit The J.L. Bedsole Scholars Program main website.